Sponsor Licence Application
UK employers who wish to hire foreign workers must apply for a Sponsor Licence.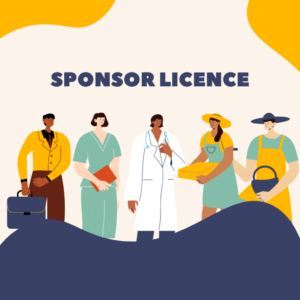 Contact our immigration lawyers for a free telephone
consultation on 020 3951 8832 or complete our enquiry form
to discuss your UK spouse visa.
UK Sponsor Licence Application
UK employers need to complete a sponsor licence application if they want to employ a skilled worker from overseas.
Typically, sponsor licences fall under the categories of a Worker Licence and Temporary Worker Licence. The type of job the organisation is hiring for will determine which sponsor licence the employer needs to apply for.
Organisations will need to fulfil a number of duties and obligations as the employer of a foreign worker, both before and during the employment. First, you must decide which company member(s) will be representing the company. Any members who represent you must be an executive/senior member of the company and not a shareholder.
As part of the application process, you will be required to prove that you are a legitimate business which needs the use of migrant talent. To make sure that your application is successful,
Types of Sponsor Licences
Worker Sponsor Licenses
The Skilled Worker Visa is for long-term skilled workers who have the right to work for at least three years, and usually five. Within the Skilled Worker Visa there are sub categories which include:
Sportsperson Visa
Minister of Religion Visa (Employees can work for up to three years under this subcategory)
Senior or Specialist Worker Visa
Temporary Worker Sponsor Licenses
The Temporary Worker Visa is for skilled workers who will undertake temporary employment. The Temporary Worker Visa is divided into these subcategories:
Creative Worker. Up to two years for eligible creative workers
International Sportsperson. Up to 1 year for sportsperson, up to two years for an entertainer or artist
Charity worker. Up to 1 year
Religious worker. Up to 2 years
International agreement worker. When work will be carried out which is covered by international law
Government Authorised Exchange
What are the Required Documents for a Sponsor Licence Application?
To support your case, you will need to send certain supporting documents. In most cases, you will need to provide at least four documents. The specific required documents vary depending on the nature of your business and the vacancy you are filling.
For example, if you are completing a Sponsor Licence application for a Skilled Worker Visa or Temporary Worker (Creative Worker Visa), you will need to include a document highlighting the endorsement from a governing body of the sport.
All documentation needs to be provided within five working days of the online application. The documents should be in their original form. However, the Home Office might accept certified documents.
The IAS have dealt with countless sponsor licence applications of all persuasions. With our sponsor licence guidance, we can ascertain which documents you need to include in your sponsor licence application. Call us now on 020 3951 8832 for more information.
Sponsor Licence Eligibility Requirements?
To be eligible for a sponsor licence, the employer must:
Not have any unspent criminal convictions for immigration offences and other crimes such as fraud
Have no history of failing to carry out sponsorship duties
The sponsor licence application process is complex and requires the employer to provide detailed information on their organisation.
Under the UK's new immigration system, sponsors are no longer required to conduct a Resident Labour Market test but the Home Office may still expect the employer to provide sufficient evidence to prove that the employment of the foreign worker is necessary.
An employer can complete a sponsor licence application to sponsor either regular workers or temporary workers. The licence which the employer needs depends on the nature of work the employee will be doing.
If the employer's sponsor licence application is accepted, the employer must assign a Certificate of Sponsorship to each foreign worker.
The organisation is obligated to fulfill a number of other duties and responsibilities as the employer of an overseas worker.
What are the Sponsorship Management Roles?
You will need to appoint people within your business to manage the sponsorship process when you apply for a licence. The sponsor licence operations will be conducted via the sponsorship management system (SMS).
The specific roles which need to be filled are:
The key contact. They will act as the main point of contact with UK Visas and Immigration (UKVI)
Authorising officer. They must be a senior person. They will be responsible for the actions of the staff and representatives
Level 1 user. This person will be responsible for the day-to-day management of the licence
These roles can be carried out by just one person if necessary. At least one level 1 user must be an employee of the company. However, other level 1 and level 2 users can be employed from third-party organisations.
Every person who works within the sponsorship process will need to undergo certain checks, which will include an analysis of any unspent criminal convictions and whether the person has been reported to the UKVI.
Your Responsibilities as a Sponsor
There are many responsibilities which an employer of an overseas worker needs to fulfil, both before and during the employment.
As an employer, you must:
Ensure that your foreign workers have the necessary skills and qualifications for the role, with documents to prove this
Only assign Certificates of Sponsorship to workers when the job is suitable for sponsorship
Inform the UKVI if your employee is not complying with the conditions and terms of the visa